For Men: A Guide to Dressing for the Club
Credits: Pexels
Dressing for the club seems like a big headache. This is a little easier for guys than girls because essentially, anything you wear to the office can double as clubbing attire if you tuck out your shirt and switch out your shoes for something you can actually dance in. But if you don't want to look too mature or stuffy, trade that professional-looking G2000 set for some clothes that you can really move in. Don't know how to pick out your outfit? Fear not, lads – here's the BOOZEZ guide to dressing for the club.
Shirts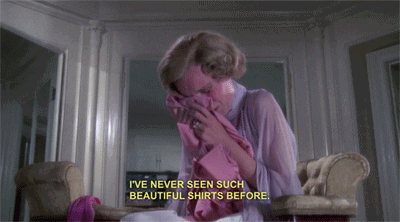 Credits: GIPHY
At the risk of sounding over-simplistic, any shirt with a collar will do. This isn't a hard and fast rule, but some clubs will turn you away if you show up in a t-shirt so I would suggest you slip into a button down for the night. Nothing too formal, so plain, flannel or patterned shirts are acceptable – anything from the likes of Uniqlo, Cotton On or Zara, basically. You'll be sweating quite a bit tonight, so avoid light colours if you tend to develop sweat stains. There's also a very real possibility that you might spill some liquor on your shirt tonight, or bump into someone holding a giant pint of beer, so I would break out the darker colours tonight if I were you.
Trousers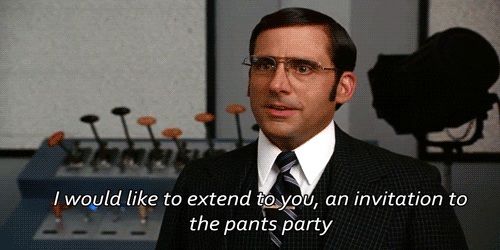 Credits: GIPHY
This HAS to be trousers – no shorts and Bermudas are acceptable by clubbing standards, so if you walk up to the door in beach shorts, expect to be turned away by an irate bouncer. The most important thing to take note of is the cut of your trousers. You can wear anything from chinos to denim jeans, but they have to be well-fitted. Nobody wearing baggy pants to a nightclub has ever brought a girl back to his place unless it was 2001.
And no, you probably can't get away with joggers. You might, however, be able to get away with a kilt.
Shoes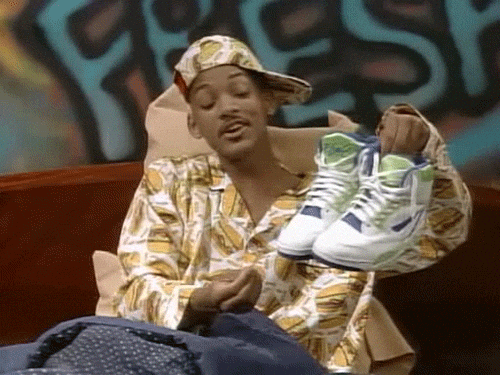 Credits: GIPHY
This'll come as no surprise to you if you've made it this far down the list, but your shoes have to be covered. No sandal-clad foot will ever get past the door of a club if that foot is attached to a physically male person. Your choice of footwear should really depend on your outfit but generally speaking, any shoe, sneaker, boat shoe, boot or moccasin variety is fine.
Steer clear of SAF-issue sports shoes, or any kind of footwear you can get from an E-mart. When I said boots were fine earlier, I meant Doc Martens, not those from the outfield-worn Frontier selection. Try not to wear your most expensive or whitest shoes, either – someone's bound to step or spill on them. You might even have the misfortune of stepping onto vomit, so pick a pair of shoes that look hella fine but can take the occasional stain without inciting heartache. Dark leather Timberlands or an aged pair of Converse are good choices for braving the dance floor, but feel free to put on your Oxfords if that's your thing.
Socks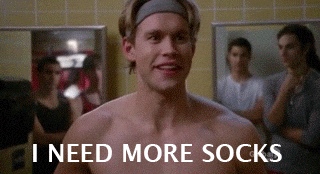 Credits: GIPHY
You won't be removing your shoes until you get home (either your own or someone else's) so this might not be too extreme an issue, but don't wear white sports socks tonight, for goodness' sake. Cute cartoon socks might be a plus if you're into that sort of thing, but our advice is to go plain and simple. And NO JOGGING SOCKS.
Watch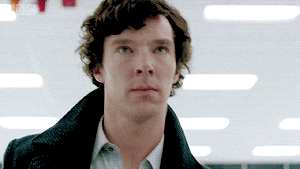 Credits: GIPHY
The temptation to wear your Daniel Wellington out is great, and why shouldn't you? It looks damn good on you. Do be wary of losing it, however. While you're waving your hands in the air like you just don't care, keep in mind that watches have been known to go missing on the dance floor. Either they are stolen off a drunk person's arm, or in all likelihood have fallen off the wrist somehow. If you're going to bring a fancy watch out, do remember to keep an eye on it.
Dressing for the club is not that hard after all! You've now reached the end of the BOOZEZ Guide to Dressing for the Club. You can check out our main website BOOZEZ.com for a list of clubs, their opening hours and special promotions. For more clubbing tips, check out our Guide to Pre-Drinking.